ACKNOWLEDGEMENTS
My thanks to the people who made this book possible.
Read Why Author Lewis Perdue had to wait for his mother to die before writing this book.
---
WHAT'S PERFECT KILLER ALL ABOUT
Q&A with
Lewis Perdue

How My Imagination
Came True, Again!

---
Lew's Photos of Mississippi (2002)
---
PERFECT KILLER BENEFICIARIES
Sunflower County Freedom Project
National Military Families Association
The Advocacy Foundation for Mississippi Justice
---
RELEVANT LINKS
Dr. Brad Stone's
Consciousness Studies Site
Univ. of Arizona Center for Consciousness Studies
Operation Enduring Valor
Clark Braxton Presidential Campaign
---
MORE BOOKS BY LEWIS PERDUE
Fed by greed and notions of racial superiority, a huge global biotech corporation is about to unleash a killer gene that has rested undisturbed inside every human being for thousands of years.
Go to Slatewiper.com
---
---
The Da Vinci Codex is Missing!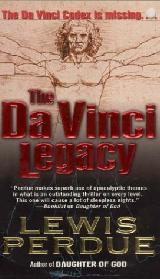 The ORIGINAL thriller about Leonardo, art and religion is BACK in print.
Check out The Da Vinci Legacy web site
for more on the book and the plagiarism of Lew's books
by Dan Brown
---
Buy Slatewiper, Da Vinci Legacy
and Lew's Other Books
---
LewisPerdue.Com
Finally, all of my books in one place.
Daughter of God
The original art and Vatican conspiracy thriller about religion and the search for the lost Goddess in Christianity.
The Da Vinci Crock
This is a blog covering the Random House/Dan Brown plagiarism court case.
Writopia
This is a blog covering Dan Brown's various fabrications, boasts and fictional inflation of his life and accomplishments.
---
ABOUT LEW